Contracello Duo
It is at the foot of Mont Saint-Hilaire, facing the majestic Richelieu River, that Duo Contracello gave its first concert in February 2009. Since then, the duo had the chance to perform for Promusica at the Festival Montréal Baroque, at the Chapelle Saint-Louis and during the concert series at the Chapelle Saint-Cyriac of Lac-Kénogami. The Duo has been invited at numerous Sons et brioches events, vernissages and private events. The Duo regularly works with the SAMS (Société des arts en milieu de santé) to offer concerts in healthcare settings.
Francis Palma-Pelletier, Double bass player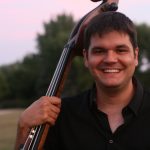 Francis Palma-Pelletier has a passion for historic double bass. He completed a bachelor's degree in interpretation at McGill University, then a post-graduate training in early music at Basel's Schola Cantorum, in Switzerland. During the 6 years he spent in Europe, he had the opportunity to perform in several countries with groups such as the Barockorchester Capriccio Basel, the Collegium Musicum Luzern, the Freitagsakademie Bern and the Orchestre des Champs Elysées.
Since coming back to Montreal in 2008, he has been playing with several ensembles of early music, including the Boréades, the Lys Naissants, Galileo and the Idées Heureuses. He recorded under the Atma and Analekta label. He was invited to play has a soloist in Montréal and in Luxembourg. In addition to being active in the chamber music circle, he is a member of the Radiotango band and double bassist in the theater play la Bibliothèque interdite from productions Sybillines.
Sophie Coderre, cellist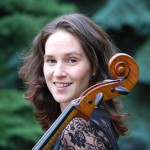 Sophie Coderre holds a master's degree in interpretation from the Faculty of Music at the University of Montreal. During her studies, she was solo cellist of the University of Montreal's Symphony Orchestra, then a member of the National Youth Orchestra of Canada (NYOC) in summer 2003.
Thereafter, she devoted herself to working with several chamber music groups, including Duo Contracello, Quatuor Rhapsodie, and Quatuor Trad. A versatile performer, she also knows how to cooperate with current music composers and participates in recordings of classical and popular music. She was seen on stage alongside Marc Déry, Robert Charlebois, Le Vent du Nord and Louis-Philippe Gingras. A cello teacher for almost 20 years, Sophie shares her knowledge with young talents of the Montreal area and those of her native area, Lanaudière. She teaches at the Joliette Regional College.